11.30.2004
There's a Chinese song years ago called "missing is a mysterious thing"...
and i always think so too...
I don't particularly miss anything right now. But, there's one thing that i do miss for a while "school".
I used to think that i was too cool for school and never wanted to stop or waste a second in school....It used to be a place full of pressure to me.
I can't believe that I actually miss my Donghwa University, where I studied for my master programs for 3 and half years....can't believe i even miss going to the library on every Wednesdays for my researches, can't believe I even think about my old professors....
Strange, strange feelings if you know how much i hated school. but i'm going to visit it again. I'm going to be on the high that goes to the school so slowly, not like before when i used to finish the long distance within 5-8 minutes (yep! I've counted it!) And i'm going to spend my whole afternoon in the library....just hanging.... and then i'm going to visit the English department office and see if my old profs are still there....just go there and hanging too....Oh....my god I almost forget to mention the only place in school that might attract me more then 5 minutes-->the school cafe! man, i love hanging out there, i think it's because that's where you can temporarily forget about school work...he he...
Missing is a kind of a mystery, indeed. I'm going back to the same school that i used to go everyday, only this time the feeling of going to school will be so different than usual.
|
11.23.2004
not much to say
who knows...
Hualien may always stay!
but my heart is flying away...
i guess
there's too much to expect
the journal that's two months away
far far away to the southeast asia bay...
|
11.18.2004
Life is a little bit different now, mainly because our apartment looks so neat now. Two roommates moved out last week, and in fact, they own most of things in the apartment, so they took them all...Anyways, our place now finally belongs to ryan and me and finally look like our place with pretty less craps there. Very simple...we only got maybe 5 plates, a pair of fork and spoon, some chopsticks,no knife yet, one little coffee table (or here we say "tea-table") two arm-chairs, two little shelves and two plants and one bed! I like it that way a lot better! :)
Well high school classes still suck, i have given up all the hopes anyways now.....
Yesterday ryan and i were talking about blogging the impressive sentence the students make in the end of the day...so here it goes:
me: "Since our topic today is about national flags, let me draw some flags here for you....So, have you tried and drew any before??"
student: "pizt.....hell no! i only thing i've ever drew was testicles!"
haha haha haha......students burst out laughing AGAIN....
me: "Really! Interesting...." "What kind???"
Oh well, sometimes not only just being mean and total morons, high school student could be really emotional and taking things so personal, too. I had kids weeping in my class out of no reasons (maybe i didn't paying attention to that), and i had them banging the door and got out of the class angry while i was still talking....man! thank God that I didn't become as emotional and taking everything personal like them before the school cut down some of the classes for me! phew!!!
The house is pretty empty now, that also means no landline which means no internet and thus i guess no any photo blogging from now....as least not very soon!
|
11.11.2004
so, I was looking for you everywhere. You were gone for some reason...I looked here and there...And finally I opened one of the room doors, and there you were! Oh, not only you but another woman was also in bed with you...The blanket overed both you, yet it was hard not too notice that you were both lying naked...And doing that while I opened the door........
"what!?" you said "shut that door now, what's so bigger a deal........Yeah, this is me! And this is her...Happy?"
I turned and walked away, there was nothing else I could do, nothing!
Later, you came home...tried to explained what had happened..However, you weren't trying that hard, cuz obviously you still wanted that b*tch who didn't give a shit about you and dumped you long time ago.......
Somehow, I knew whatever between us was not gonna end up happily. I didn't know why I was still holding on some hope there...I was so not me. I would have actually broken up with you. But I did...It was so painful to see you been torn by two women, and I even tried to help you to figure out what you should do to gain her back........Man!
She, the woman lying in bed with you, stopped me every time she had a chance. First time, she stopped me asking if I'd take a set of her purse, bags which looked old and with green little flower prints on each one of them. I was so annoyed....
"what? You want me to accept anything from you??? do you remember who am i? You slept with my boyfriend! Remember?"
"Oh that, i meant to ask you how you are...i care more about you anyways, as to him?? Ha! that joke! It was just sex for me, i don't care how he'd take it...Honestly! So, please take these from me. They really suit you!"
I was thinking : why don't you just get lost, i don't want to talk to you, i don't want to have anything to do with you.......i have enough trouble now, un....who are you??? talking like you know me at all.....
I took them anyways. Just to get away from her.
Somehow, while this relationship is dying fast, this woman appeared again and again wanting to chat with me, to be my friend....offered me more stuff that i didn't need at all. She'd be talking to me asking how am i...bla bla bla....but non of them would be about my boyfriend, or anything about the bed scene....STRANGE!!! i was so upset and annoyed having this on going unwilling conversation with her......
I didn't remember how the story ended this morning, all i remembered was when Ryan shouted: "Iris! I thought you have to teach in the morning! Wake up!"

It was 20 minutes before the class.

"Oh shit!" i vaguely opened my eyes and looked at Ryan giving him a mean look: "You...you cheater!!!!"

"Wo....what????"
|
11.10.2004
and sometimes when i almost gonna waste the whole day sleeping on the weekend, i'd never forget to wake up and grap the little tail of the beautiful day ending ... ;) This was taken from the back balcony.

|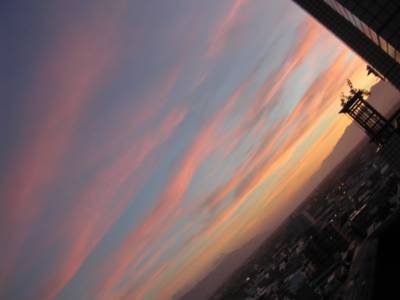 another angle of the red bath from the balcony of 16 floor.

|
my lonely KTV...guess what was i doing when everybody else was trying so hard to grap the microphone!

|
Sunset bath of hualien in October

|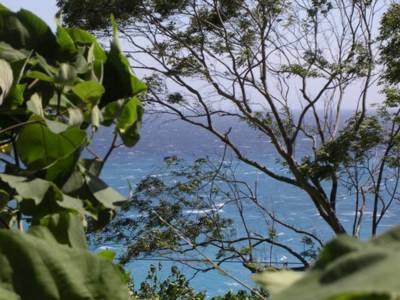 beach on the way to ilan...nice day trip!

|
11.07.2004
i was just having fun clicking on "next blog" to see what would jump out in front of my eyes...and found this
interesting article about Mainland China and Taiwan. Although i am not a big fan of any politics, in fact, anyone one would be pretty disappointed when trying to chat with me about politics (especially about the relationship between Taiwan and China); however, this caught my eye and i decided to blog it!
Notes in Samsara
|
11.02.2004
so, i had my first halloween! :)
|
my feet, and my "fetish" according to someone next to me....

|
"Lost in Accessories"

|
this is me and sexiest "lady" on the Halloween night...

|
we may be funky, but we are happy, a happy family!

|